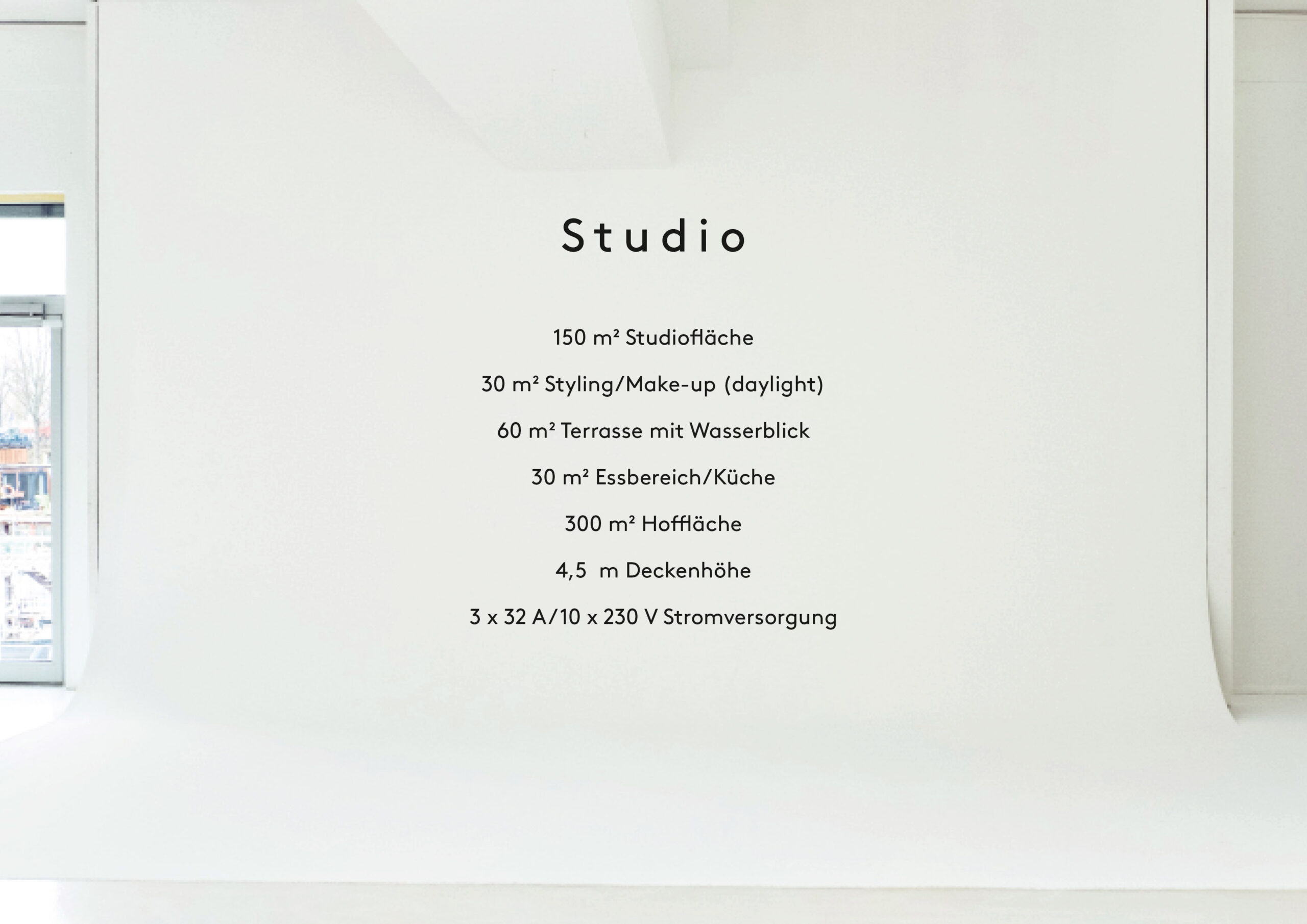 230 m² Studiofläche mit Hohlkehle beinhalten eine große Küche/Essbereich sowie Daylight Make-up Raum und eine 23 m lange Terrasse, die direkt über dem Wasser liegt, nach Südwesten ausgerichtet ist und die beiden Studios verbindet. Neben dem separaten Daylight Make-up Raum gehören weitere Räume für Fittings mit Kleiderständern, Steamer und Bügelstation sowie ein großer Essbereich mit Küche zur Ausstattung. Das Studio ist direkt zufahrbar. Eine Anlieferung von Requisiten und Equipment kann problemlos über unser Rolltor erfolgen. Eine Vielzahl von Parkplätzen für PKWs und LKWs befinden sich direkt vor den Studios.
Über 7000 m² Halbinsel beinhalten 3500 m² Parkanlage mit altem Baumbestand und 35 Meter private Bootsanlegestelle. Die 900 m² Hoffläche bietet ausreichende Parkmöglichkeiten für große Produktionen. Die Bootsanlegestelle ist ebenso nutzbar als Sonnenterrasse, Foto-, und Filmmotiv sowie zum Empfang von Gästen, die mit dem Boot anlegen.
230m² of studio space including the infinity wall, a large kitchen and dining area,  daylight-make-up room with water view and a 23 m long south-west facing terrace, which is located right above the waterfront and connects both studios. Similarly, large rooms for fittings with clothes racks, steamer and ironing facilities. The studio is accessible directly by vehicle. The delivery of props and equipment can be done easily by the large shutter gates. Directly in front of the studios are ample parking spaces for various cars and trucks.
Over 7000 m² large peninsula, incl. 3500 m² park area with beautiful old trees and 35 m private boat pier.The boat pier can also be used as sun deck, photography and film motif and of course to receive guests arriving by boat. The 900 m² courtyard provides ample parking for large productions.
+49 30 31 17 43 70
+49 172 4227815