Greg Haberny, End Of The Road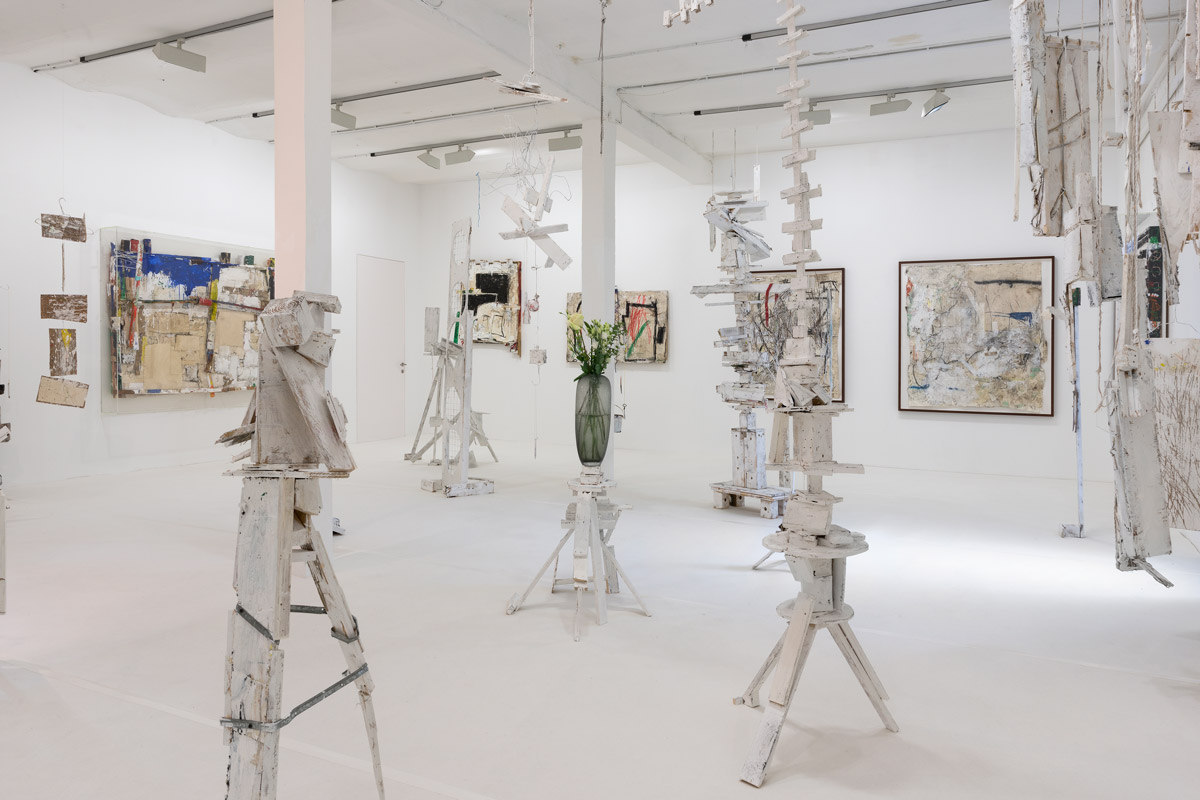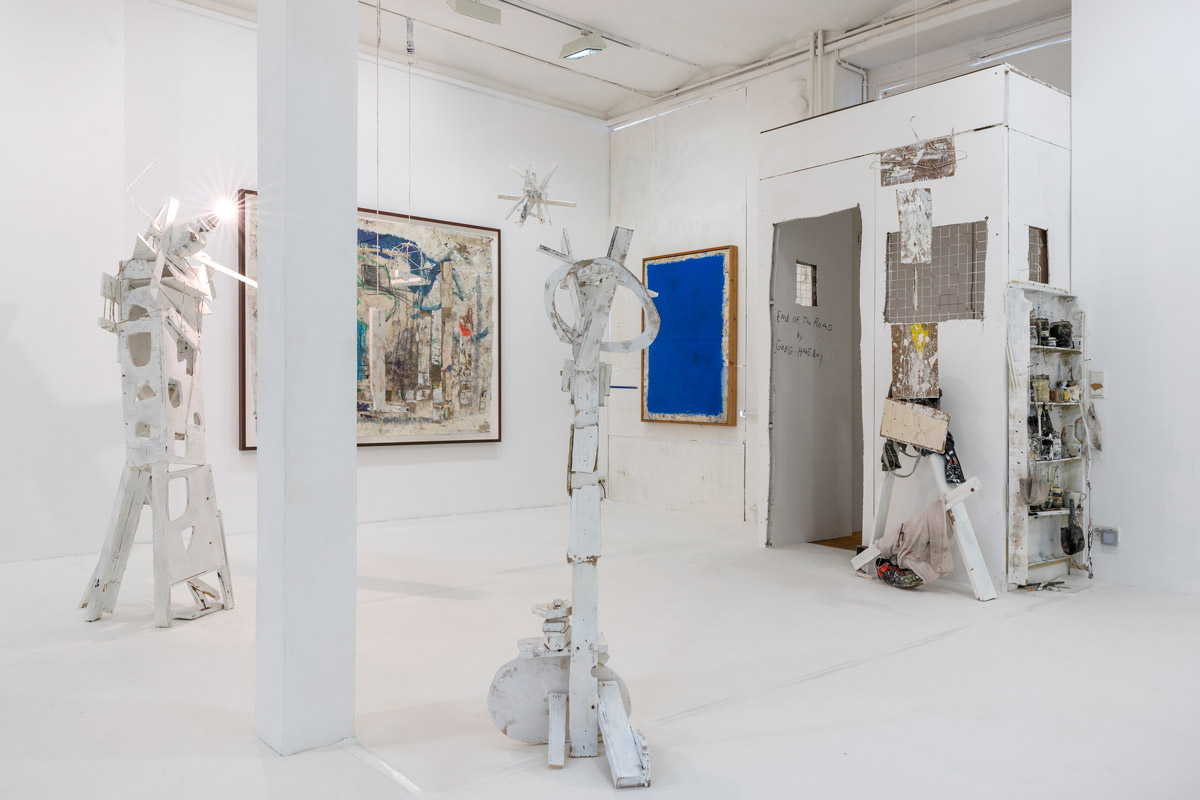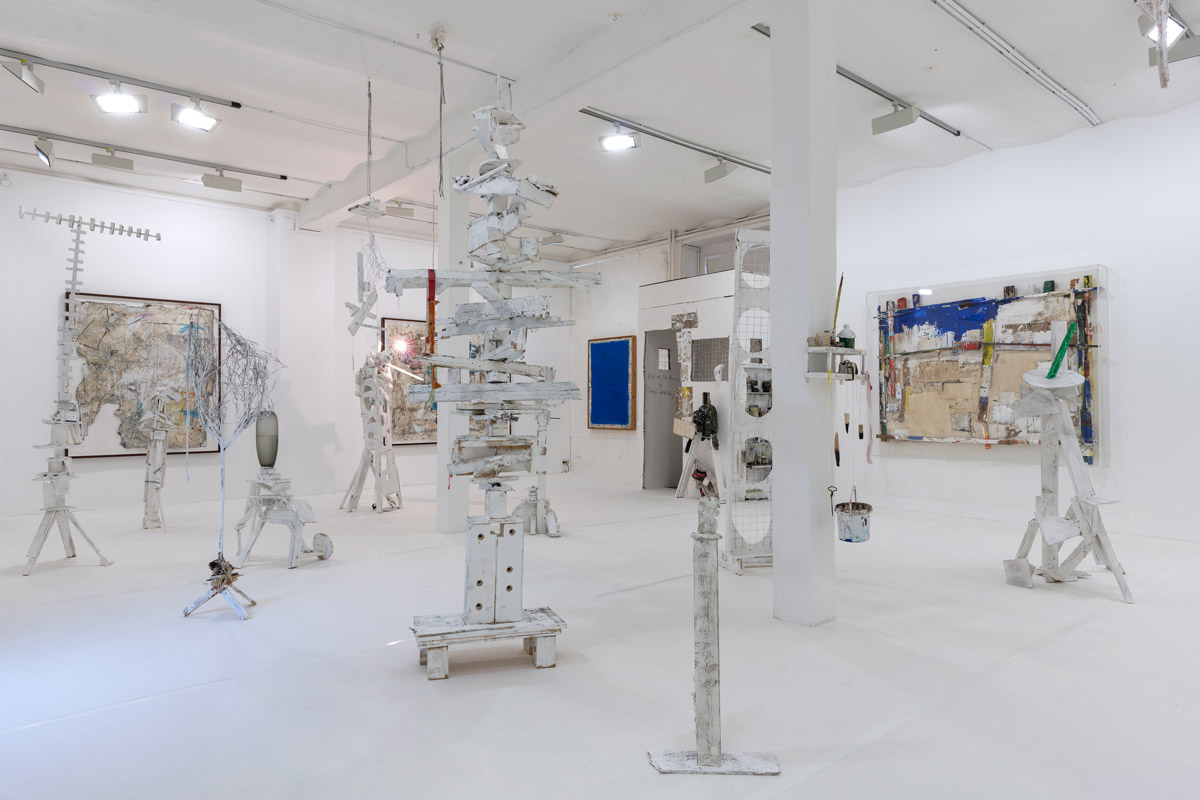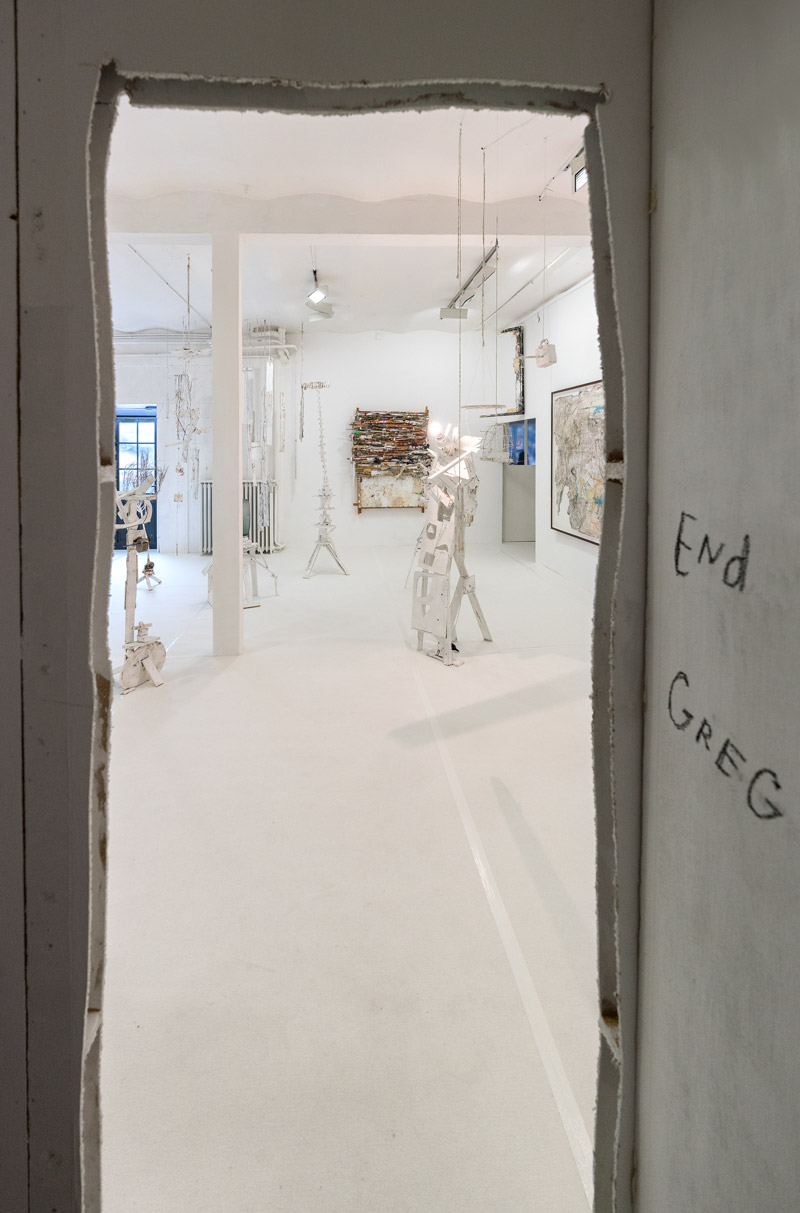 Spätestens, wenn der Besucher von Greg Haberny's raumgreifender Solo-Show "End Of The Road" die obligatorischen Schuhüberzieher angezogen hat, merkt er, dass er sich in eine andere Sphäre begeben hat. In ein Szenario, das Apokalypse und Verheißung zugleich ist.
In eine Künstlerphantasie, die das Ende und der Anfang einer langen Reise ist und dabei zutiefst verwurzelt ist im Selbstverständnis der Moderne, radikal und integrativ zugleich zu sein. Marcel Duchamp brachte in einem seiner Interviews mit Calvin Tomkins gut auf den Punkt, was die Moderne eigentlich ausmachte, nämlich den Betrachter miteinzubeziehen, mehr noch, den Betrachter als denjenigen anzuerkennen, der Kunst über das Erleben und Diskutieren erst zur Kunst macht:
"The creative act is not performed by the artist alone; the spectator brings the work in contact with the external world by deciphering and interpreting its inner qualifications and thus adds his contribution to the creative act."
Ein anderer wichtiger Schritt, die Moderne zu vollziehen, war der Perspektivwechsel, der nicht nur die Kunst in eine neue Dimension überführte, sondern das "Sehen" einer ganzen Generation ins Wanken brachte. Eine mehrdimensionale Perspektive ist für Haberny's Arbeitsweise sowie die Form der Präsentation seiner Arbeiten entscheidend. Seine Wandarbeiten werden von allen Seiten bearbeitet, entstehen auf dem Boden, an der Wand, manchmal überm Knie und müssen dem Blick von allen möglichen Perspektiven standhalten. So sind auch die Ränder seiner Bilder bemalt, hängen Arbeiten an der Decke oder von ihr herab. Dem Betrachter wird zugemutet, sich auf ungewohntem Weg der Kunst zu nähern, sich zu einem Teil davon zu machen. Der Betrachter ist im Bild, Subjekt und Objekt werden aufgehoben. Der Mensch und die Kunst sind eins.
Auf die Avantgarde der Moderne bezieht Haberny sich auf verschiedenste Weise immer wieder, weil sie in vielen Dingen so viel radikaler sein konnte, als es heute noch möglich ist. Die Sehnsucht nach den Grenzen, gegen die man rebellieren kann, nach den Werten, die es umzustürzen gilt und gesellschaftlichen Zwängen, von denen man sich befreien muss, sucht er und findet sie. Allerdings in anderen Ausmaßen und Bereichen. Seine Referenzen auf die entscheidenden Vertreter der Moderne sind als eine kodierte Form zu verstehen, Rebellion gegen etwas anzuzeigen, was noch so schwer fassbar ist für uns als Zeitgenossen. Die Welt, in die Haberny entführt, wirkt als ein Aufbäumen gegen die totale Herrschaft des digitalen Zeitalters, die Rebellion gegen die synthetische, glatte, künstliche Ästhetik, mit der wir uns heute umgeben. Wir betreten hier unkontrollierbares, gesetzloses Terrain fern jeder Überwachbarkeit. Aus dem Dreck und den Resten unserer Zivilisation, seines eigenen Daseins erschafft er Statements, die so packend sind, weil sie unsere zutiefst menschlichen Regungen anticken.
"Für gewöhnlich bezeichnet das Schild "Road Ends" das Ende der befestigten Straße. Die Reise ist beendet. Man dreht um und fährt denselben Weg zurück, den man gekommen ist. Doch diesmal ist es anders: Du verlässt das Auto, lässt Deine Sachen zurück und überschreitest die Begrenzung. Du bist zu Fuß. Eine Reise durch einen riesigen, dichten Wald ohne Pfad, kein Ziel, kein Sicherheitsnetz. Es ist unheimlich, da ist dieses vage Gefühl der Unsicherheit. Die Planlosigkeit und die Angst im dunklen Wald sind eine lange, intensive Reise zum eigenen Ich. Da ist kein Mobiltelefon, niemand, der Dir sagt, dass alles ok ist. Aber Du wächst daran. Da ist eine Erkenntnis an diesem Punkt: Du versuchst gar nicht zurück zu kommen. Du hast der befestigten Straße physisch den Rücken gekehrt. Psychisch dem Konventionellen die Absage erteilt und Deine inneren Konflikte besiegt. Du rebellierst. Du frisst die Angst, überwindest Dunkelheit und Klaustrophobie. Dann kommt ein Punkt, an dem man verloren ist. Und genau dann in diesem toten, stillen Moment, in dem man in die tiefe Finsternis starrt, erkennt man, dass man vielleicht gar nicht verloren ist, sondern endlich wirklich erkannt wird."
(Greg Haberny)
Diese Show operiert am offenen Herzen, bietet Einblick in den Schaffensprozess eines Künstlers, der eins wird mit seiner Kunst, der dazu einlädt, einzutauchen in das Chaos und die Tiefe der eigenen Seele. Entbehrungen sind für Haberny Quell von Kreativität und Zerstörung seiner Arbeiten notwendiges Werkzeug der Erneuerung und Weiterentwicklung. "Upcycling" ist das Stichwort und Haberny betreibt es so radikal, dass es schmerzt. Arbeiten von Sammlern zurückzukaufen, um sie zu verbrennen und aus ihrer Asche neue Arbeiten zu erschaffen, ist so selbstzerstörerisch wie befreiend und heilend. Es geht ihm um ständige Weiterentwicklung, um ein im Reinen sein mit sich und der Welt. Dabei wird das menschliche Bedürfnis nach Gewohntem als Ballast empfunden, als etwas, das unfrei macht und zugleich der Ursprung all unserer Schöpfung ist.
Haberny erschafft hier ein unbestimmtes Universum, das als abgeschlossenes System funktioniert, dem Besucher als Parallelwelt erscheint. Es sei denn, er lässt sich auf die Szenerie ein, begreift sie als eine Reise ins eigene Innere. Dann findet ein Diskurs á la Duchamp statt. Dann ist es Kunst und wir sind mittendrin. Dann ist alles eins und wir sind frei.
At the latest when the spectator of Greg Haberny's space-filling solo-show "End Of The Road" puts on the obligatory shoe covers, he realizes that he moved into a different sphere.
Into a scenario, which is apocalypse and promise at the same time. Into an artist's fantasy, which is the end and the beginning of a long journey and thereby deeply rooted in the self-conception of modernism; being radical and integrative at once.
In one of his interviews with Calvin Tomkins, Marcel Duchamp put it in a nutshell when speaking of what modern art truly does. Namely to include the spectator, even more to acknowledge him as the one who is responsible that art becomes art through experiencing and discussing:
"The creative act is not performed by the artist alone; the spectator brings the work in contact with the external world by deciphering and interpreting its inner qualifications and thus adds his contribution to the creative act."
Another important step to put modern art into effect was the change of perspective, which not only transferred art into a new dimension, but also toppled the 'Seeing' of a whole generation.
A multidimensional perspective is decisive for Haberny's working method as well as the form of presentation of his works. From all sides his wall-pieces are being worked on; they are created on the floor, on the wall, sometimes above the knee and they have to withstand the view from all possible perspectives. Thus, his paintings have painted edges, are fixed to or hung from the ceiling. The viewer is expected to approach the art in an unusual way and to become a part of it. The viewer is in the picture. Man and art are one.
Repeatedly Haberny refers to the avant-garde of modernism in various ways, since they could be so much more radical in many things as it is the case today. The desire for boundaries against one can revolt, values which need to be overthrown and social constraints from which one has to free himself, he seeks for and finds them, but in other dimensions and areas. His references on the defining representatives of modernism have to be understood as a coded form to display rebellion against something which is elusive for us as contemporaries.
The world, in which Haberny leads us, appears as a rebellion against the total domination of the digital age and against the synthetic, clean and artificial aesthetic, which surrounds us today. We enter uncontrollable, lawless terrain far from any supervision. He creates statements out of the dirt and remains of our civilization and his own being. These statements are so powerful, because they touch our deeply human emotions.
"The sign 'Road Ends' generally states the end of the paved road. The journey is finished. You simply turn around and go back the same way you came. But this time is different: You ditch the car, leave your belongings, and break free through the sign. You're on foot. A journey into a vast forest with no path, no direction, no safety net. It´s awkward there is a general feel of anxiety and uncertainty. The aimlessness and fear in the dark woods is a long, intense journey towards the inner self. There is no cell phone, no one telling you it's going to be ok. But you progress through fearlessly. There is an awareness at this point: You are not even trying to go back. You don´t care. You have physically turned your back on the paved road. You have psychologically turned your back on the conventional, have overcome your inner conflicts. You rebel. You eat the fear, it gets darker, more claustrophobic but you still progress on. You get to a point where you are really lost and then it occurs to you in that dead quiet moment staring into the vast dark forest that perhaps you're not lost at all, but you are truly found."
(Greg Haberny)
This exhibition is an open-heart surgery and provides insight into the creation process of an artist, who becomes one with his art and who invites to dive into the chaos and depth of the own soul. Deprivations are a source of creativity for him and the destruction of his works is an essential tool for renewal and further development. 'Upcycling' is the keyword and Haberny pursues this approach so radical that it hurts. Buying back pieces of collectors to burn them and to create new works out of the ashes, is as self-destructive as it is liberating and healing. For him it is about a constant development and to be at peace with himself and the world. The human need for habituality is considered as ballast, as something which makes unfree and is at the same time the origin of our creation.
Haberny creates an indeterminate universe, functioning as a closed system, which appears to be a parallel world to the spectator. Unless the spectator engages in the scenery and understands it as a journey into the inside. Then a discourse à la Duchamp takes place. Then it is art and we are in the middle of it. Then all is one and we are free.